ABOUT UNDERWOOD AND FLINCH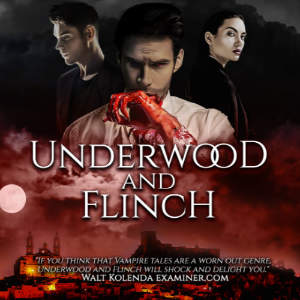 Underwood and Flinch is a podcast audio novel by Mike Bennett, that was serialised from December 2008 to July 2012. It won the Parsec Award for Best Small Cast Story (Long Form) two years running in 2012 and 2013.
The original novel was intended as a standalone work, but responding to audience demand, Mike wrote a second U&F book, Underwood & Flinch: Blood and Smoke, that served as both a sequel and a historical prequel to the original. The podcast won the Parsec Award for Best Novella in 2014.
Following the completion of Blood and Smoke, the U&F Saga (as it had now become) continued, with Mike writing and recording monthly episodes of the ongoing adventures of Underwood and Flinch for his supporters at Patreon. At the time of writing this, there are over 100 episodes of the podcast available online.
---
THE STORY
All David Flinch ever wanted was a normal life. But when you're a member of the Flinch family, normal has never been easy.
For hundreds of years, the eldest-born male Flinch has become servant and guardian to the vampire, Lord Underwood. While the Flinches have changed through the generations, Underwood has remained eternal. David had hoped to be spared the horror of serving his family's lord and master, but when he is summoned to the family home in Spain by his dying older brother, he knows his luck has run out.
After fifty years of slumber, Underwood is to be resurrected from the grave in a ritual of human sacrifice, and David, by right of succession, is to be his resurrector. But there is another Flinch, one who craves the role of guardian to the vampire: David's sister, Lydia. It's a job she intends to have, even if it means making David's the first blood shed in this new age of Underwood and Flinch.
Listen to the introductory short story to the world of Underwood and Flinch below, or subscribe to the podcast for more.
HOW DO I LISTEN TO
UNDERWOOD AND FLINCH?
Underwood and Flinch, its sequel Blood and Smoke, and all of Mike's other free podcast audiobooks are available in the one podcast feed, so you only need to subscribe to one podcast to get them all. To listen on your phone, you'll need a podcast app like Apple Podcasts, Spotify, Stitcher, Pocket Casts, OverCast, Deezer, etc. Once you have that, just click on the appropriate links below.
---
IS UNDERWOOD AND FLINCH
SUITABLE FOR YOUNGER LISTENERS?
Underwood and Flinch, like all Mike's works, contains swearing, scenes of violence, and occasional sexual scenes, that many parents would not consider suitable for children.
MIKE BENNETT
ABOUT THE AUTHOR/READER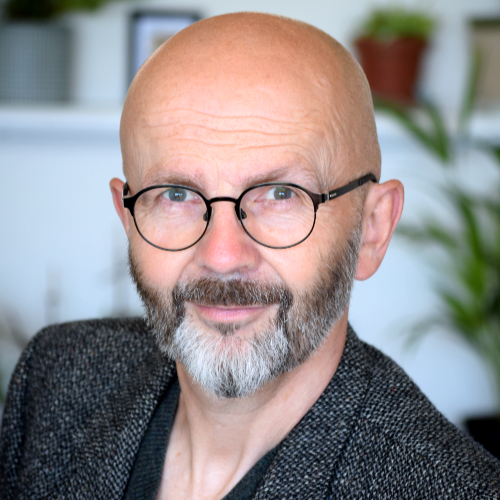 Mike Bennett is originally from Catford, South East London. At the age of ten, he moved with his parents to Windsor, Berkshire. He left school at sixteen to work in a foundry, and there, with his hands occupied and his brain atrophying with boredom, he discovered the joy of books on tape. Once he'd exhausted the stock at his local library, he started making his own audiobooks using a cassette tape recorder and reading stories by H.P. Lovecraft, P.G. Wodehouse, and Charles Bukowski, amongst others.
Throughout the '80s and '90s, he worked in a string of jobs, including postman, video shop assistant, dustman, a few stints at Windsor Safari Park, and as a promoter at legendary Windsor music venue The Old Trout at the height of the Britpop and grunge era.
Mike started writing fiction in the late '90s while studying as a mature student at the University of Brighton. While still at uni, he wrote and published his first novel, One Among the Sleepless in 2002. Though the book sold well, he found the experience of self-publishing frustrating, and in the summer of 2002, he gave up writing and moved with his wife to Ireland to focus on a new career teaching English as a second language. He taught for thirteen years at schools in Ireland, Spain, and England.
In 2006, while living in Dublin at the advent of the podcast age, Mike returned to making his own audiobooks when he podcast One Among The Sleepless. He quickly gained a worldwide audience of listeners which he built upon when he podcast his short story collection, Hall of Mirrors from 2007 to 2008. Also at this time, inspired by an earlier period of living in rural Andalucía, he wrote his second novel, Underwood and Flinch, which he subsequently podcast from 2008 to 2012.
Underwood and Flinch won the Parsec Award for Best Small Cast Story (Long Form) for two years running in 2012 and 2013. Its sequel, Blood and Smoke, won the Parsec Award for Best Novella in 2014. Mike also won Parsec awards for his reading of HP Lovecraft's The Shadow over Innsmouth in 2013, and for his zombie apocalypse novella, After the Plague, in 2016.
The third book in the Underwood and Flinch saga, Underwood and Flinch: Underground, was powered by Mike's supporters at Patreon, where he has been podcasting to a loyal listenership since 2015.
Mike now writes and podcasts in Wexford, Ireland, where he lives with his wife and two rescue dogs. He became a dual Irish-UK citizen in 2021.
---
REVIEWS AND TESTIMONIALS FOR
UNDERWOOD AND FLINCH
"Bennett's 'Underwood and Flinch' saga is the best hidden literary gem in existence. Experience the same thrill you have when you find an unsigned underground band that blows your mind."
P.J. Parrish. Editor in Chief: Tennessee Valley Business Journal
"If you think vampire tales are a worn-out genre, Underwood and Flinch will shock and delight you."
Walt Kolenda, Examiner.com
"A massive story, and very, very original."
C.Griffin. Amazon.com
"Do you like vampires? You'll love this! Do you like drama? You'll love this! Do you like to be entertained? ....Look, I'll level with you, if you want to listen to the best vampire story of all time then stop looking because you've found it!"
S.P. Morris. Amazon.co.uk
"Mike Bennett has done something I thought was impossible: take the played-out cliche of the vampire novel and make it something new and brilliant."
Makaya Sanger. Amazon.com
"A phenomenal story in the old tradition of blood, gore, romance, and deep, well-drawn characters who struggle through very real moral dilemmas.'
Stephen Fryer. Smashwords.com
---
SOCIAL MEDIA